This is a Wealthy Affiliate Review 2021 that is thorough, honest and based on my own experience. Whether you are just getting started with creating an online business or are an experienced website guru or affiliate marketer, the Wealthy Affiliate platform will meet you where you are and help you grow.
Before I get into my review, I want to share how Wealthy Affiliate literally changed my life.
I have been a member of Wealthy Affiliate since 2017 and had absolutely zero knowledge of how to create an online business. At Wealthy Affiliate I learned step-by-step how to build a website, how to do SEO and drive traffic to my site, how to monetize my website, and eventually leave my corporate job. Since 2017 I have built a lot of websites. I even started my own local web design and SEO business. And, I do all of this through Wealthy Affiliate. It has changed my life. Below is my honest and personal review of Wealthy Affiliate.
Wealthy Affiliate – The Overview and Rankings
---
Name: Wealthy Affiliate
Website URL: www.wealthyaffiliate.com
Price: Starter Member (Free); Premium Membership ($49/month); Premium Plus Membership ($99/month)
Training

Support

Website Builder

WordPress Hosting

Research Tools

Price
Summary
Wealthy Affiliate is the place to go for step-by-step training on how to build a money-making website built around your passion.  In addition to the comprehensive training, they also provide world-class hosting and security for the ultimate one-stop-shop for running your online business.
What Wealthy Affiliate Is and Is Not
Wealthy Affiliate is a site built for affiliate marketers primarily and is a community dedicated to teaching you everything you need to know about how to build an online business. From understanding how to make money online to building your own money-generating website.  It is not a get-rich-quick scheme or an internet scam.  You will need to do the work.
Wealthy Affiliate is where I learned how to build websites and drive traffic using search engine optimization (SEO).  Their Online Entrepreneur Certification program is one of the best in the industry.   The training is action oriented and my advice is to trust the process and follow the training.  It's the quickest way to success.  And, they have an awesome community of members who will help you every step of the way.
People Who Can Benefit From the Training and Resources at Wealty Affiliate:
Freedom entrepreneurs who want to quit the 9 to 5 and start earning money on passive mode
People who want to earn some extra monthly income
Retired people looking for a hobby or to add some income to their retirement savings
Marketers who already have some understanding of how to run an online business but need some advanced training
People looking to downsize, get back to nature, and earn money from wherever you happen to be
Turn Your Passion Into an Online Business – Here's How it Works
---

This is how Wealthy Affiliate works. The training will walk you through step-by-step how to do it.
First, you choose an interest. What is it that you love doing or what are you passionate about? I used to own an in-home senior care agency so I have a passion for seniors and care giving, I also enjoy outdoor life, RV'ing, building small businesses, and helping others achieve success. I've built websites on most of these interests and it doesn't even feel like work.
Then, you build a website around your interest (or niche). With the training and tools at Wealthy Affiliate, you can have a website up the first day you start.
Next, you get people to your website. You will learn a lot about traffic generating techniques and how to attract visitors to your site. These will be people who are interested in learning about your passion and interest.
Finally, you will start earning revenue. You will learn how to make money online and how to earn money from your own website. There are many ways to monetize your website and Wealthy Affiliate will teach you all of them.
What You Need To Know First
---
If at any time you decide to join Wealthy Affiliate you should know this:
It is Free to Get Started – the Starter Membership is Free! No credit card needed and no risk.
There is a great community of support – In fact, I'm a member and will be there as well to help make sure you're set up for success.
Dedicate Time and Follow the Training – This is not a get-rich-quick scheme. The training and support you receive at WA will provide a foundation for creating a wildly successful online business but you need to do the work. Follow the training and you can't help but be successful.
The Training at Wealthy Affiliate – It's Extremely Comprehensive
---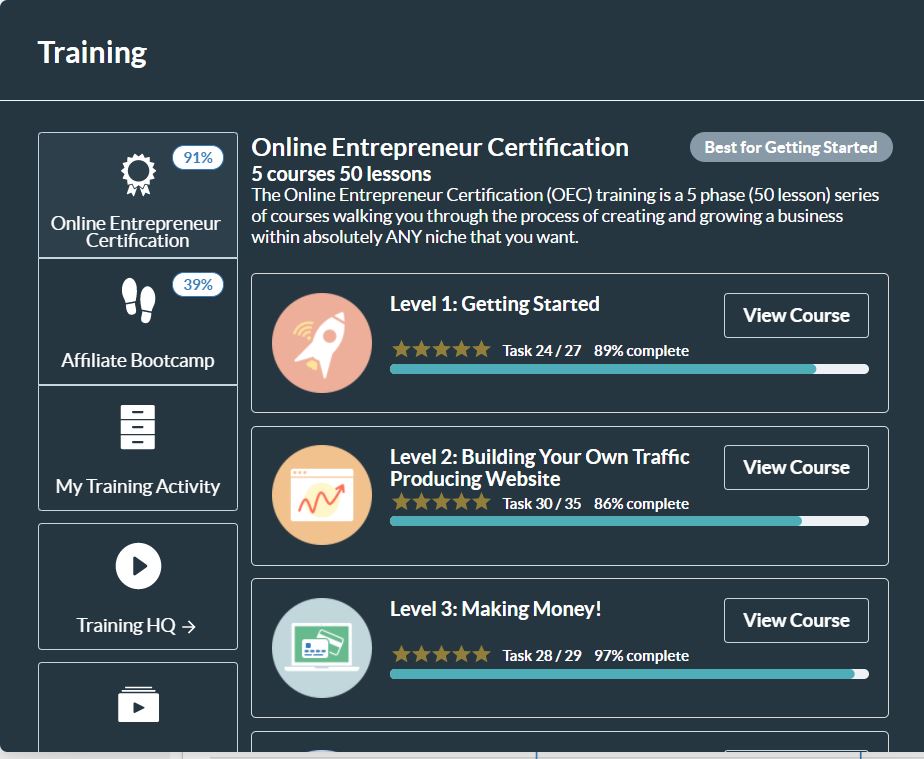 All the training inside the site is easy to follow and is designed for people with different learning styles (with training provided as text as well as videos). There is also a comment section right within the training where you can ask questions. Your questions are answered by other members or by the founders themselves.
The training comes in several different formats and I will break each one down individually,
1. Core Training
With a Free Starter Membership you can dive in right away with the Online Entrepreneur Certification (Level 1). This course will teach you the basics of Affiliate Marketing and how to make money online. Make sure you complete all the tasks at the end of each lesson because the training is cumulative and success comes from taking action.
2. Certification Courses (5 Levels)
The 5 Certification Courses (Including Level 1) are listed below. Once you get through Levels 1-3 you will have a money-making website built and will be on your way to success!
Level 1: Online Entrepreneur Certification – Getting Started
Level 2: Building Your Own Traffic Producing Website
Level 3: Making Money
Level 4: Mastering Social Engagement
Level 5: Achieving Maximum Success Through Content Creation
3. Live Training
Everything in the online marketing world moves quickly so, to keep things up-to-date and fresh, Wealthy Affiliate offers weekly Live training seminars on various topics. Most of the training is cutting-edge stuff and will keep you updated on what is trending as well as provide step-by-step instructions on various processes.
The Live training is recorded so you can watch them if you happen to miss them.
The Tools at Wealthy Affiliate – The Best in the Industry
---
No matter what business you're in you're going to need the right tools for the job. Wealthy Affiliate is designed to be a one-stop-shop for everything you need to build a successful online business. That means that all the tools you need are there including a Keyword Tool, Website Builder, Site Hosting, and getting your own domain name. They are all easy to use and are included in the Premium Membership. I'll go into some detail about each.
1. Keyword Tool (Jaaxy)
One of the things you'll learn at Wealthy Affiliate is that, in order for your site to get ranked in search engines and drive traffic to your site, you need to target keywords with low competition from other sites. The Keyword Tool from Jaaxy gives you that ability. You can see what people are searching for inside Google and, by targeting low competition search terms, you can get your website on page one quickly. And, it's all part of your membership. Try a free keyword search below.

2. Site Builder
The Site Builder tool helps you build a website in a matter of minutes. This (for me) is the best tool I have ever seen when it comes to building websites. The SiteRubix tool helps you build a website in a matter of minutes. This (for me), is the BEST tool I have ever seen when it comes to building websites.
When installing a WordPress site, you typically have to perform a bunch of steps which can become overwhelming if you don't know what you're doing. SiteRubix solves that problem with its easy 4 steps process:
First, choose what kind of website you want to build? (Free site)
Then, name your website
Choose a look for your website
Finally, build Your Site
No need to fuss with installing WordPress and the challenges that comes with. The Site Builder can literally install and create your website within 60 seconds of adding your domain name. And, how do you get a domain name you ask? There's another cool tool for that.
3. Site Domains
One of the newest tools in the Wealthy Affiliate toolbox is also the coolest. Now, you can buy your domain name right inside of Wealthy Affiliate and it works seamlessly with the WA Hosting Platform and the Site Builder.
If you have ever purchased a domain name in the past (through sites like GoDaddy.com) then you know about the many up-sells or add-ons that are attached with a domain name purchase. WA Site Domains takes away the domain name stress and is very competitive in terms of features and price.
4. Site Hosting
People are Running Million Dollar businesses on the Wealthy Affiliate Hosting Platform. Wealthy Affiliate has some of the best WordPress hosting around and is setting industry standards. There is no need to deal with any other web hosting company as WA has made it easy and seamless. It is super fast, reliable and integrates with Site Domains and SiteRubix. As I mentioned earlier, I have a local web design business and I host all the websites I build right on the Wealthy Affiliate platform. With my membership, it is much less expensive (not to mention faster and more secure) than any other hosting platform.
Features of WA Hosting:
WordPress optimized servers
Site Dashboard Where You Build and Manage your Websites
Faster loading
The most secure hosting anywhere
Full redundancy
Daily backups
24/7 website monitoring
Fully managed
Email & forwards
Site Health analyzing
Website auto login
The best part is that WA Hosting comes with your membership. There is no added cost to host your website.
Starter Members = 2 Free Websites (on .siterubix.com domain)
Premium Members = 50 Websites (25 free .siterubix.com website and 25 on your OWN Domains)
Premium Plus Members = 50 Websites
The Support – A Community of Caring Members
---
I give the Support at Wealthy Affiliate 5 stars out of 5. In my opinion it is the BEST part about the Wealthy Affiliate community. Now, I must say, without the other stuff like the training, the Site Builder, the Site Hosting, etc. I wouldn't have a business. But, the support I receive from the co-owners, the staff of WA and the other members of the WA community, is really what sets them apart.
The available support channels at Wealthy Affiliate include:
Live Help

The Live support is the heartbeat of the Wealthy Affiliate community and provides instant answers to questions. They also provide personal help, coaching, and the ability to interact in real-time. Live Support is available 24/7 so it doesn't matter what part of the world you live in – the live chat support is there for you.

Private Messaging

As part of your membership, you can contact any Wealthy Affiliate Premium member privately to discuss your online training or projects. You can also contact the owners Carson & Kyle for some private coaching or feedback whenever you need it.

Live Q&A Sessions

After each Live Training Course (discussed above) the trainer opens it up for Live Q&A where you can get clarity on topics discussed or specific questions answered. A great way to accelerate your training.

Website Feedback Platform

If you're looking for some feedback on your website or on a specific page of your website, the Website Feedback Platform is a great way to get it. It works on a credit system where you give feedback on 2 sites in exchange for 1 request to review your site. Here is an example of some feedback I received on one of my websites.

Training Classrooms

The classrooms are similar to a forum where you can ask your questions and someone within the community will provide an answer for you. New information is being posted by the minute and you can search within these classrooms for answers that may already exist.
Success at Wealthy Affiliate
---
Can you be successful at Wealthy Affiliate? I asked that question when I was considering joining and I'm sure you are asking the same question. Success, for me, comes when I surround myself with other successful people and learn from them.  And, of course, I've started several businesses within Wealthy Affiliate, I have the freedom to work from anywhere and I'm making money!  Within the WA community there are thousands of people who have had various levels of success and who have put various levels of effort in. Successes range from learning how to build a website to earning extra income to quitting their day job. Others have built million dollar businesses.
It takes hard work and dedication to build and run your own online business. So, there's no way for me to tell you how much money you can make. What I can tell you is this…if you have the passion and dedication, commit to putting in the work needed, and follow the training, you will be successful.
How Much Does It Cost
---
Starter Membership – FREE
Premium Membership – $49 / month
Premium Plus Membership – $99 / month
Recently Wealthy Affiliate added a Premium Plus Membership for those wanting to take their online businesses to the next level. This membership includes advanced training and support and the ability to host 50 websites on the hosting platform.
If you have any questions or if I can help in any way, please leave me a comment below. Thanks and good luck.
My Overall Review and Rating.  Uncut.
---
As I tell anyone who will listen, Wealthy Affiliate changed my life. They taught me how to build a website, how to monetize it, how to drive traffic to it, and they host it with their world-class WordPress hosting platform. I run all my businesses within Wealthy Affiliate. The training and support I receive it top-notch. The research tool (Jaaxy) comes with your membership and is worth the membership fee by itself. The hosting platform is state-of-the-art and they are always making it better.
If you are looking for a legitimate program and community that will help you start and grow an online business, Wealthy Affiliate is definitely worth the money. You can start for free and see what the training, tools, resources, and support is all about. I've tried other Affiliate Marketing platforms and none compare to what you'll find at Wealthy Affiliate.
Training

Support

Website Builder

WordPress Hosting

Research Tools

Price
Summary
Wealthy Affiliate is the place to go for step-by-step training on how to build a money-making website built around your passion.  In addition to the comprehensive training, they also provide world-class hosting and security for the ultimate one-stop-shop for running your online business.