If you are an online marketer, blogger, freedom entrepreneur, or have a website for your business, you want to be able to drive organic traffic to that website. In order to do that, you'll need to know how to lookup keywords to understand what potential visitors are actually searching for.
There's a great tool for that called Jaaxy. In this quick article I will show you how to lookup keywords and how to use the information from Jaaxy to drive traffic to your website in the most effective and efficient way.
Why are keywords important?
---
Keywords are the words and phrases that people type into Google (or other search engines) when they are looking for information. If those keywords are on your website, or within the content you are posting, you have a chance of showing up in search engine results.
Of course, your goal is to show up on page one of Google, right? So, by researching keywords in Jaaxy, you'll be able to find which keywords (or phrases) have low competition. Thus, increasing your chance of appearing on page one.
Try it now!
---
If you want to see how Jaaxy works now, type in a keyword or keyword phrase below.  You just need to sign up for a free starter account. Then, I'll show you what to look for in the results.
What to look for when searching for quality keywords
---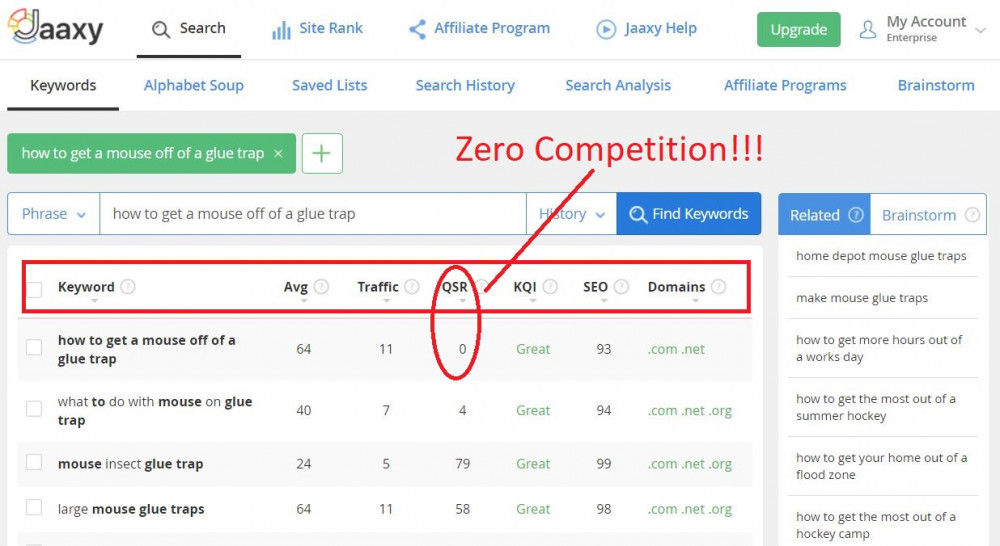 When you lookup a keyword in Jaaxy, you'll see a results page similar to the one above. Here's what you want to look for.
Avg – This is the average number of searches per month for this keyword.
Traffic– This is the average number of visitors you can expect to your site if you can rank on the first page.
QSR (Quoted Search Results) – this is the ULTIMATE metric that shows the number of websites competing for this EXACT keyword. Ideally, this number should be as low as possible. I usually look for keywords that have less than a 100 QSR. But, 300 is still ok. In this example, 0 is the best you can get!!
KQI (Keyword Quality Indicator) – This metric will give you an instant indicator of the keyword quality for your marketing campaign. The closer the KQI is to 0 the better. Green=good; yellow=decent; Red= stay away. I avoid any keywords in the Red zone…there's just too much competition.
SEO– This is the algorithmic score of opportunity for you. It's a good indicator of how likely your keyword will get SEO rankings. The higher the number the better.
Domains – This shows you what domains are available (if any) that match the keyword.
In summary
---
Jaaxy is the best keyword search tool out there and you can use it for free. You can also get access to more keyword data through one of their paid plans.
The goal in keyword research is finding quality keywords with low competition. Then, make sure you use that keyword in your title, meta description and in the first paragraph of your article or blog.