In this post I will show you how to create a website and make money from anywhere. Whether you're looking for an extra income stream or want the freedom to work from anywhere in the world, you can learn how to create a website and make money by following 5 basic steps. This proven process works even if you have no experience building websites or running an online business.
I will also show you where you can get step-by-step training on how to build a money-making website as well as the tools and resources to help you succeed. When I started out, I had absolutely no idea how to build a website or how to make money from it. Now I'm doing it. I'll show you how you can too.
The 5 Steps to Creating a Money-Making Website
Making money from your website isn't a myth. Anyone can do it.
In fact – turning a part-time hobby or something you're passionate about into an income-generating website is fairly common with a bit of dedication and hard work.
At the very least, you can earn some additional income each month. You might even be able to replace your existing income (and then earn some more). It's up to you.
Here is a quick overview of the process for building a website that will generate passive income for you.
Choose an idea (or niche) for your website
Build your website
Monetize your website
Attract visitors to your website
Make money
1. Choose an idea (or niche) for your website
---
There are literally billions of people around the world searching the internet for help, guidance or information on just about anything you can think of. You will be building your website around a topic that you will be the expert in. Don't worry if you're not an expert in it yet. You will become one and I'll show you how.
People are looking for solutions to a particular problem when they are searching the internet. When people search for information on a particular topic, search engines will return websites that have the most relevant information that will help solve that particular problem.
So, your first step is to decide on a topic (or niche) for your website. Maybe it's a hobby or something you are interested in or passionate about. You will be writing articles or blog posts about your topic that will solve a problem someone is searching for help with.
It's better if your niche is very specific. Health and fitness is a very popular niche but it's too broad. On the other hand, Pilates for seniors is very specific. A more focused and narrow niche will help your content rank higher in the search engines resulting in more people visiting your website.
And, that's how you'll make money. I'll show you how to monetize your website in step 3.
2. Build your website
---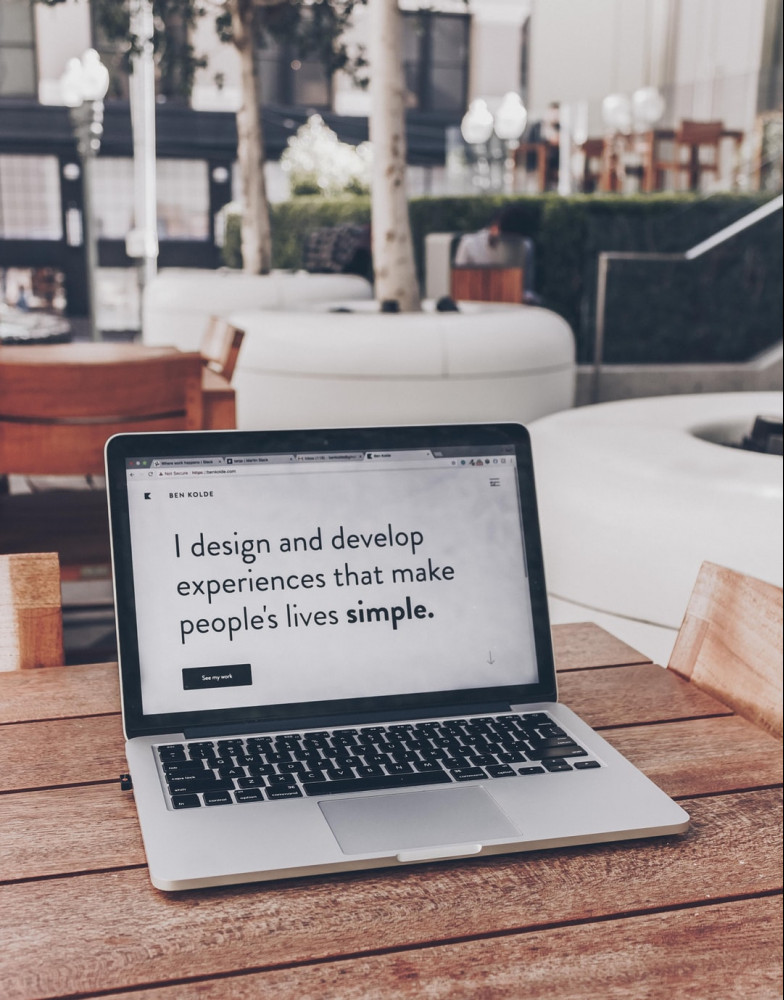 The next step is to build your website. There are several things you'll need to consider before you can get your website up and "live" on the internet.
Website Builder – You will need a platform on which to build your website. I recommend WordPress.WordPress is the most popular website building tool. Sources say that WordPress powers about 40% of the entire websites worldwide. So every 3rd website you visit is likely built on WordPress. In fact, this website (the one you are currently reading) is built on WordPress, too.
Hosting Service – You will need a hosting service that makes your website accessible on the internet. Without a web hosting service, you cannot have a website online.
Here are some of the best web hosting options for new websites:
I personally use Wealthy Affiliate where I can register my domain names, build my website and host them all on one site. I've been using Wealthy Affiliate since 2017 and I run all my website businesses on this one platform. They will also teach you step-by-step how to drive traffic to your website using SEO. This is where I learned myself. It's worth checking out.
They have a free membership where you can get a free starter domain, learn how to build a website and host it for free on their platform.
If you want more information, check out my review of Wealthy Affiliate.
3. Monetize your website
---
Now, it's time to decide how you're going to make money from your website. Here are the most common ways to make money with your website.
Affiliate Marketing
Affiliate marketing is one of the most popular and quickest ways to make money from your website. Although, it will take some work.
First, start by finding a product (or products) you like and can recommend. Then, on your website, you endorse the product and promote it to your website visitors and email subscribers. If the reader clicks on your affiliate link and purchases the product or service, you'll get a split of the sale price.
The commission might be anywhere from 30% – 70% of the price of the product or service. For example, if the split is 50% and you promote an e-book that costs $100, you'll get $50 for simply referring the buyer. Pretty sweet!
You can find products to promote at:
Commission junction – offers reliable products with on-time payments.
ShareASale – mostly clothes, accessories, and other offline goods.
Clickbank – high percentage payouts, but there's a lack of GOOD products to promote.
Pay Per Click Advertising – Google AdSense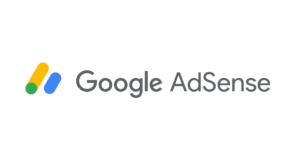 AdSense allows you to tap into Google's immense advertising network so that other advertisers can run ads on your website.
It's really simple.
After you sign up, Google will place a simple code on your website that will identify the content of your site and start displaying relevant advertisements. For example, if your site is about pets (dogs & cats), Google AdSense will start showing your visitors ads for cat food, dog training, and more.
Each time someone clicks on an ad displayed on your website, you get paid. It' really that easy!
Your cut might be anywhere from $0.50 to $5 per click. When your site has enough traffic, you can make hundreds (if not thousands of dollars) each month.
How to apply for Google Adsense
Apply for AdSense – Before applying, make sure you keep up with their latest Terms Of Service. Google has very strict rules, so it's hard to get (and stay) approved.
Sell Your Own Digital Product (eBook for example)
You have the potential to make the most money (on a per-sale basis) when you can sell your own product directly.
That's because there's no middle-man taking a 'cut' from the money earned.
This approach seems fairly straightforward because you can simply sell these products directly through your website and get paid immediately. Unfortunately, it's not that simple in reality.
Creating good products that are well-made requires a lot of time and additional resources (like design, content, etc.). You may also need to collaborate with contractors to do some of the work and there would be costs involved with that. Selling your own products on your site also brings up problematic issues like payment gateways, shipping, and taxes.
For further reading on this check out this article, Selling eBooks on Your Website.
Set Up an e-Commerce Site (difficult)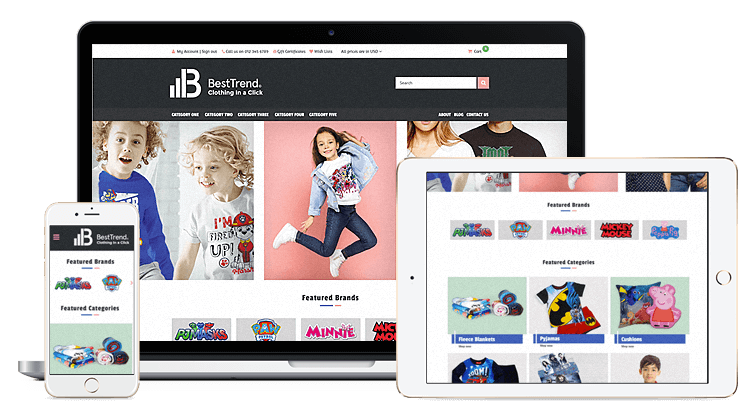 You can also set up a website that is an online store that sells products focused on a unique niche.
There are literally hundreds of thousands of eCommerce websites or online stores. So, make sure that yours is filling a unique need within a niche. Figure out how you'll stand out in the crowd.
For more information on this, check out the article How to Start an Online Store.
4. Attract visitors to your website
---
People are your business. Without people, you have nobody to sell or advertise to.
Getting people to visit your website is about one thing, quality content! In the world of online marketing, you will hear the phrase "content is king" over and over again. Quality content, that is. And, it's true.
If you recall earlier in this post I discussed how Google, and other search engines, return results when someone is searching for something in particular. Their algorithms are designed to return the most relevant and user-friendly content they can. Their goal is to help people find the most relevant information based on their request.
Therefore, your content needs to be relevant and focused on helping people solve a problem. And, it has to be written in a way that shows them how they can solve their problem. This is the basis of search engine optimization (SEO).
One of the best ways to make sure your content ranks to use a Keyword Tool like Jaaxy.  Jaaxy can help you identify keywords that people are searching for that have low competition from other websites. This will increase your chances of ranking on page one of the search engine results.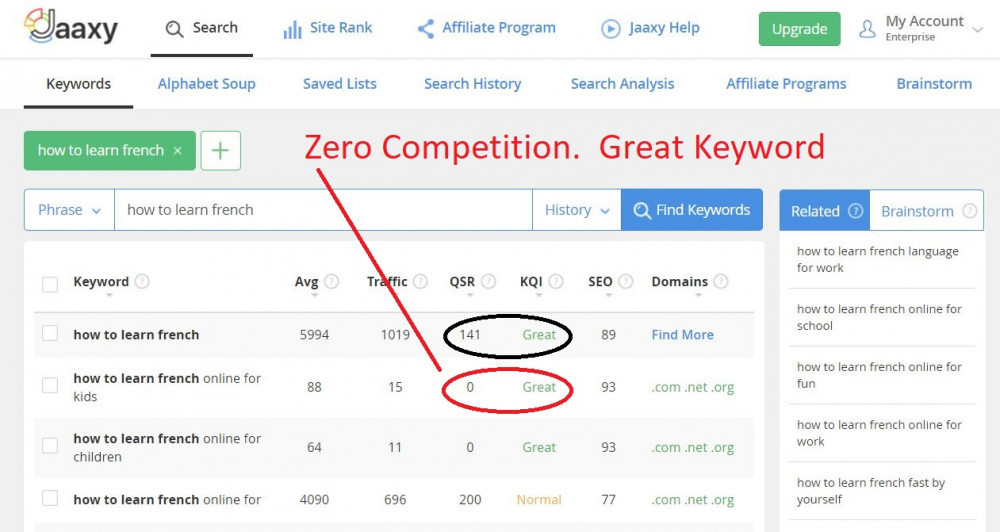 Jaaxy has a free starter membership that gives you up to 30 free searches. Also, the Wealthy Affiliate platform that I use for building and managing all my websites has the Jaaxy tool as part of your membership. Also, you will learn all about the most current traffic techniques and how you can get an ABUNDANCE of relevant customers to your website on their training platform.
5. Make money
---
Okay, now it's all about making money. You've chosen your niche (or have an idea on which direction you're going). I've shown you some options for getting your website up and running as well as how to monetize it. I've also shown you the basics of search engine optimization (SEO) and how you can drive traffic to your site.
This can all be a bit overwhelming, as it was for me when I got started. The thing that helped me the most was going through Wealthy Affiliate's step-by-step online certification program that taught me the basics of building a website and how to drive traffic to it. And, I am able to build and host my websites on their platform. It's a one-stop-shop.
For more information check out my honest review of wealthy affiliate.