You can make serious money as an affiliate marketer but only if you treat it as a business. In this article I will show you how to create an affiliate marketing business plan for your first 12 months. Your success is limited only by your dreams and, of course, your business plan.
Many beginners think they can start earning money right away with affiliate marketing. While it is possible to do, many people will fail at affiliate marketing before they earn their first penny. Having a plan and understanding what to expect during the first year can help you start earning money in just a few months.
Also, having a plan will help you stay focused on the day-to-day tasks that will get you to your goal of earning tons of money.
What should your business plan include?
---
Before we look at what you can expect during your first year of building an affiliate marketing business, let's take a look at what you should include in your business plan.
Goals and Objectives – What are your goals for your business? To earn lots of money? To become an authority in your niche? Get real specific and write them down. Your goals will be your north star and keep you focused on a day-to-day basis as you build your business.
Finances – You need to understand your finances and have a plan. How much money do you want to earn and by when? Write it down and be specific. What will your monthly expenses be as you build your business? How much do you forecast earning each month while you're building your business?
What can you expect during year one?
---
This business plan (including a template that you can customize for your own affiliate business) will guide you through the first 12 months of your business and explain what you can expect during:
Month 1
Your first 3 months
Your first 6 months
The end of 12 months
While you will be earning money well before the 1-year mark, staying focused on your business plan will set the foundation for your business to succeed and grow in the following years to come.
Month 1
---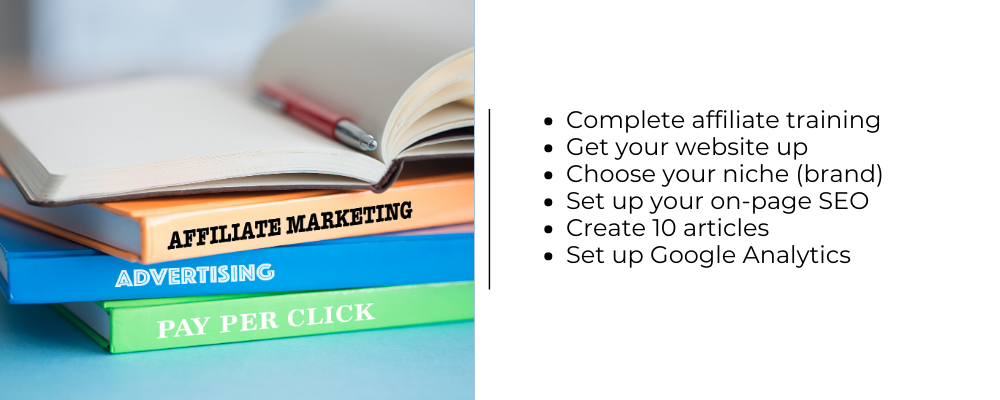 During your first month, you will be focusing on building the framework of your business which is your website or your blog. If you are new to affiliate marketing (like I was), you will be learning how to build your website and how to write content that will form the foundation of your affiliate business.
At this point you won't be worried about getting traffic to your website or making any sales yet. Month one is simply about getting through the training and building the foundation of your business that you can build on in the months to come.
Complete Affiliate Training
If you are new to affiliate marketing, you will want to find a reputable training program that can teach you everything you need to know about building a money making affiliate marketing business. A good training program will walk you through step-by-step how to build a website, how to monetize it and how to drive traffic to it which is how you make money.
If you want to try the program I used, it's called Wealthy Affiliate. They have a free starter membership that will get you learning today. Or, you can read a more detailed review of Wealthy Affiliate here before you get started.
Get your website set up
Affiliate marketing requires that you have a website that is built around a specific topic or niche, which I'll discuss next. During your first 30 days, you will work on completing the following:
Choose your domain name
Get a hosting provider for your website
Create basic pages (about me, privacy policy, contact, etc.)
Choose your niche (brand)
You will also need to decide on the direction, or niche, for your website. A lot of affiliate marketers will choose a niche or topic that they have a passion for. Maybe a hobby. Or, maybe a topic that they want to become an expert in. My very first affiliate site was built around helping family caregivers by providing support and resources.
You will be writing articles and creating content that will help someone solve a problem within your niche.
Set up your on-page SEO
Since your website won't have a lot of content at this point, you won't really be focusing on search engine optimization (SEO). However, there are some things you can do while you're setting your site up to make sure your pages and posts are optimized for SEO.
An SEO plugin, like All In One SEO, can be set up to help you fill out your site's metadata and titles so that your website will be indexed by Google.
Create 10 articles
During your first month, you'll want to create at least 10 articles or posts using low competition keywords. This will help you get ranked quicker by the search engines. You should start seeing some traffic coming to your website in the first month but, since it's a new site, Google may take a while to recognize it as an authority site. But, be patient.
Set up Google Analytics
Next, get Google Analytics set up on your website. Google Analytics will be used to track the traffic to your site and help you analyze various aspects of your visitors' behavior. While you won't be too focused on traffic at this point, it's always fun to see that people are visiting your site. This will continue to grow over time.
Earning potential in your first 30 days
You very well could start earning some revenue during your first 30 days. However, it's unlikely unless you have a bit of luck on your side. I wouldn't count on it but, if it does happen, bonus!!
Your first 3 months
---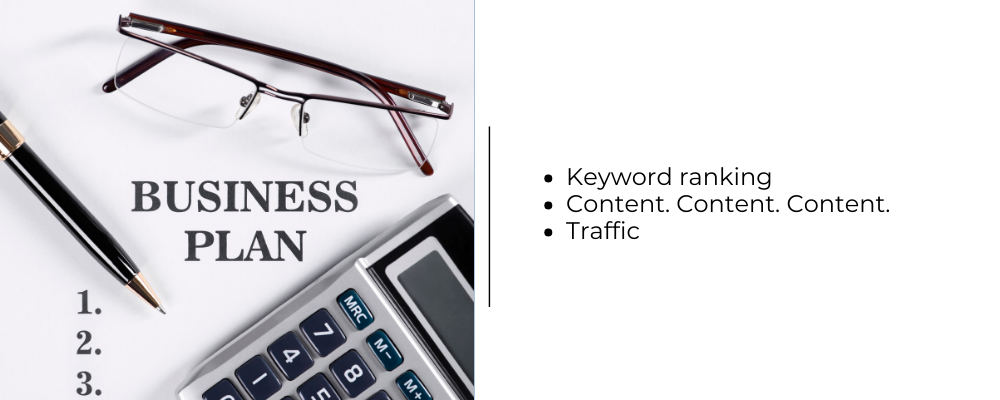 Things will start to get exciting now. You have your website up and are creating content. You are also seeing visitors coming to your website. Here is what you can expect during your first 3 months.
Keywords and Ranking
At this point, you will want to develop a system for finding keyword topics that relate to your niche. You are starting to crank up your content writing now and having a system for finding quality, low-competition keywords will help you rank well.
Jaaxy is a great keyword research tool that I use. They also have a free trial membership if you want to check them out.
Content. Content. Content.
Depending on how much time you have to spend on your business and what your goals are, you could have anywhere from 20 – 50 posts at this point. Your content is probably ranking for some keywords as well.
Your goal during the first 3 months is to continue writing content. My goal is to create one post each day. You should try to write at least 5 posts per week if you are able.
Traffic
For the first 3 months, traffic on your website will be on the low side but you should start seeing a steady increase. Again, much of this has to do with the quality and competition of your keywords as well as how much time you have to spend on writing content.
If you have between 30 – 50 posts on your site, you could easily see around 50 visitors to your website each day. You're well on your way.
Earning potential during your first 3 months
You may see your first sale during your first 3 months. Maybe more. It's difficult to say how much you will be earning during your first 3 months since it depends on several factors (the product you're promoting, average price, etc.). But, you can expect to be making between $0 and $500.
While this doesn't seem like a lot, all the hard work you're putting in to your site will help these numbers grow exponentially as your site continues to grow.
Your first 6 months
---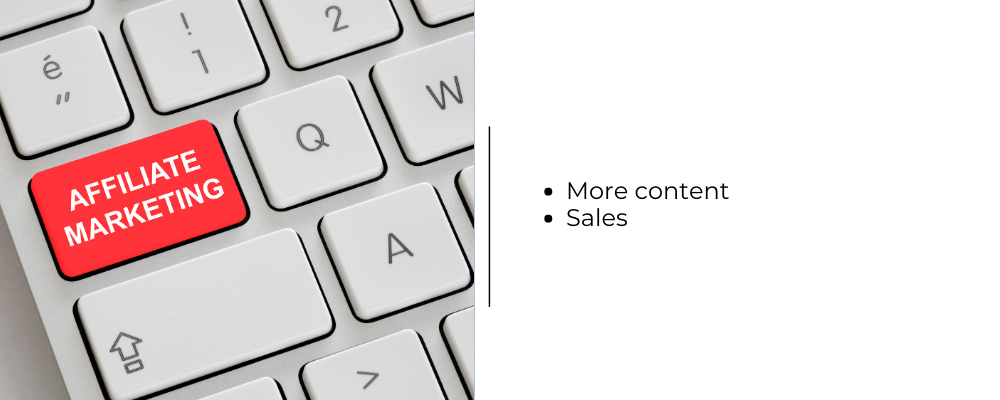 During months 4 – 6, you will be spending a lot of time on writing more content and improving your traffic and conversions. At the 6-month point, you could easily be seeing 500 visitors per day from your content writing and SEO efforts. Here is what you should be incorporating in to your business plan.
More Content
As mentioned before, content is what drives traffic to your website. Traffic is what earns you money. So, set weekly content writing goals. I would continue to set a goal of 5 articles per week.
You should also continue to educate yourself on ways to improve traffic to your site and how to convert those visitors. Your website is getting noticed and you're starting to see the fruits of your labor.
Sales
You will see sales becoming more consistent at this point. As more visitors come to your site, more will convert . It's a numbers game.
Earning potential after 6 months
Again, while it's hard to know how much you'll be earning at this point, you could be seeing anywhere from $500 – $3,000 / month. Much of this depends on the product you're promoting and how much time you're spending on your business. Affiliate marketing takes a lot of consistent work to be successful.
Your first 12 months
---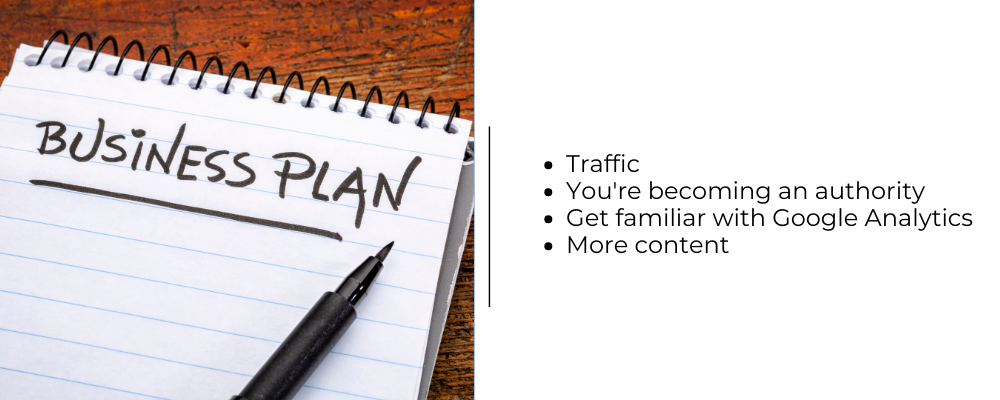 Traffic
Your traffic numbers will continue to climb during the next 6 months. By the end of 12 months your traffic should be booming. Continue creating new content and updating your old content. This is what will continue to drive visitors to your site consistently.
You're becoming an authority
At this point, your content is ranking consistently and Google is recognizing you as an authority in your niche. Your content is consistently showing up on page one and driving lots of traffic to your website.
In addition, you are becoming an influencer and people are reaching out to collaborate with you. Companies may even be reaching out to you to pay you to promote their products.
People are commenting on your posts and engaging with you and your content.
Nice work!
Get familiar with Google Analytics
Take time to get familiar with Google Analytics. There is so much data there that will give you great insights into your business. Where is your traffic coming from? What content are they reading? Which content is converting? Now that you have your site built out with great content, spend some time optimizing that content to improve conversions.
Earning Potential after 12 months
At this point, you should be earning some good money. Maybe more than you can make working full-time for someone else. If you create a business plan and stick to it, you could be making well into the six figures at this point. It's a proven business model but you have to go in to it thinking like a business person.
Update your business plan for year 2!
---
You have a successful full-time business established now. After you reach the one year mark, take time to evaluate your progress and set new goals for year 2. Perhaps you start a new website. Or, you take your existing one to the next level. You are an authority in your niche now and can expect exponential growth.
Things to consider
Do you hire a team to grow your business?
Do you start another business?
What are your financial goals? $10,000/month? $100,000/month?
Template
---
I have included a template that I used when I started my first affiliate business. Feel free to download it and customize it for your own needs. It kept me focused and allowed me to track my progress each month. I hope it helps you build your successful affiliate marketing business. Click on the link below to download an MS Word version.
⇒⇒ Click here to download a free Affiliate Marketing Business Plan Template
In conclusion
---
I hope this one-year business plan and template will help you as you build your affiliate marketing business. Let it be a living document and update it regularly as your business grows. I found that I surpassed my monthly goals every month which helped me reach my goals even quicker than I thought.
I hope you find the same success. Leave a comment below in the comment section if you have any questions or if I can help you with your business plan.