How do I start to describe Canva? It's literally a one-stop-shop for everything you need to create stunning graphics and so much more. It is your personal marketing department, design studio and print shop all in one. This is THE Canva review you should read if you're considering upgrading to the Pro version.
The Overview and Ranking
---
Name: Canva
Website URL: www.canva.com
Photo Editor and Effects: 4.5 out of 5.0
Selection of Templates, Videos & Photos: 4.6 out of 5.0
Font Library: 4.6 out of 5.0
Drag and Drop Editor: 4.8 out of 5.0
Social Media Integration: 4.6 out of 5.0
Brand Kit: 4.7 out of 5.0
Price: Starter Member (Free); Premium Membership ($49/month); Premium Plus Membership ($99/month)
TheRVCEO.com Rating: 4.6 out of 5.0
What is Canva
---
Canva is an online graphic design platform where you can create just about anything your mind can imagine. It truly is your own personal marketing and graphic design department. You can create social media graphics, images for your website, posters, newsletters, logos, presentations, and any other visual content you can think of.
Canva is known for their plethora of templates that you can use to create stunning visual content. The templates are designed so that you can edit any part of the template. You can change the image, font, color, etc. to match your brand. Or, play around with elements of different templates and create your own.
You can use Canva for free. They also have paid subscriptions like Canva Pro and Canva Enterprise that offer more functionality.
Who Is Canva For
---
Canva is for any small or medium-sized business, online or freedom entrepreneurs, and marketers of any kind who want to create stunning visual content and graphics with the click of a mouse. The customizable templates in Canva make it easy for anyone to create amazing designs, even if you don't have any experience with other photo editors.
It's easy and intuitive.
What Can You Do In Canva
---
Canva can do anything a photo editor can do, and a lot more. The drag-and-drop feature in Canva makes it stand out as far as I'm concerned. I use Canva for resizing images, designing logos, creating pictures for my website and blog, and a ton of other things.
Here are some of the things you can create in Canva.
Social Media Graphics
Canva has a large selection of templates where you can create amazing designs for your social media channels. Templates include:
Instagram Posts
Instagram Story
Facebook Posts and Cover Photos
YouTube Channel Art
LinkedIn Banner
Personal Designs
Are you looking for a resume template or a cool design for an invitation? Look no further. Canva has thousands of templates to help you create awesome personal designs. Some of the things you can create in Canva include:
Personalized Invitations
Greeting Cards
Resumes
Postcards
Weekly Schedule Planners
T-Shirts
Business Collateral
You can take your business to the next level with professional designs created in Canva. Canva even has a Brand Kit where you can create your own brand style, including colors and fonts. Some of the things you can create in Canva for your business include:
Website
Logo
Business Cards
Presentations
Invoices
Letterhead
Marketing Materials
Whether you're a blogger, an affiliate marketer or a local brick-and-mortar business, you can create marketing material that will get you noticed. Some of their great marketing design templates include:
Posters
Flyers
Infographics
Brochures
Newsletters
Proposals
Educational Materials
Canva has all sorts of tools, templates and designs for teachers and educators as well. Some of the things you can design in a hurry include:
Classroom Decor Kit
Lesson Plans
Worksheets
Certificates
Class Schedules
Other Cool Stuff
Canva is constantly adding new templates and designs to their platform. Some of the stuff trending right now include:
Easter and Mothers Day Cards
Canvas Prints
Photo Books
YouTube Intros
Features of Canva
---
1. Photo Effects
Canva has some really awesome effects you can use to enhance your photos. By clicking on one of the features above the image, a side panel will open to the left of the photo allowing you add special effects. In this example, you are able to adjust the brightness, contrast, saturation, etc.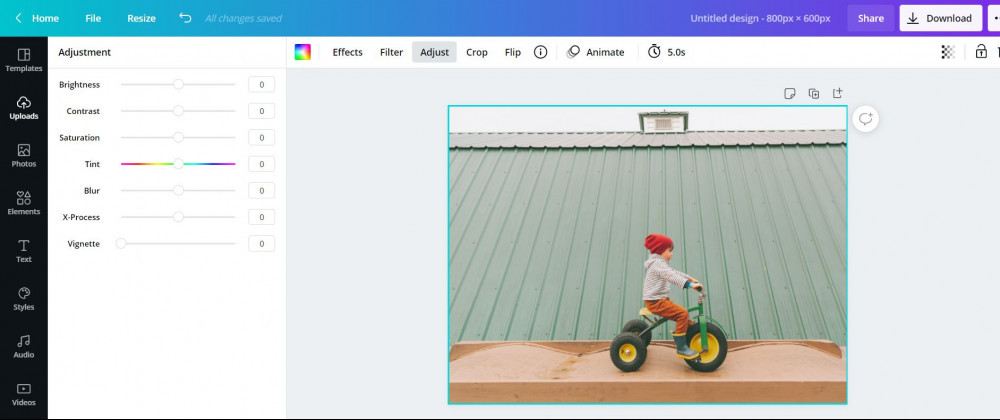 Canva also gives you the ability to add animation to the photo such as zoom, pan, fade, etc. You can also flip the photo, crop it and play around with the background.
2. A Wild Selection of Templates, Videos and Photos
With the Canva Pro plan you get access to over 75 million photos and videos and over 420,000 templates that you can use. You get access to these features with the Free plan as well, but in a more limited amount.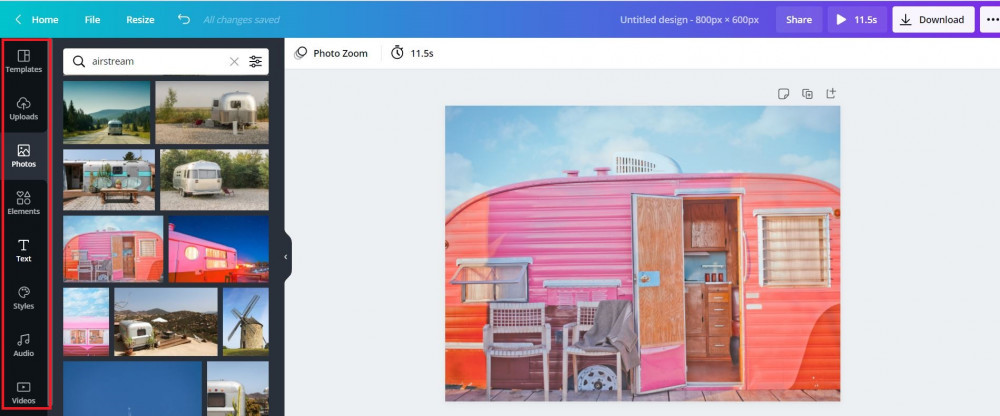 If you look on the left side of the image above, you will notice that you can search for templates (such as logos, presentations, flyers, etc.), photos, a variety of elements like shapes and borders, audio files, and videos. You can also upload your own photos to include in your graphics.
3. Font Library
Canva has a comprehensive font library in the text feature. If you have your Brand Kit set up, it will display the fonts associated with your brand. It will also display recent fonts and popular fonts. If you have the Pro Plan, you can upload your own fonts as well.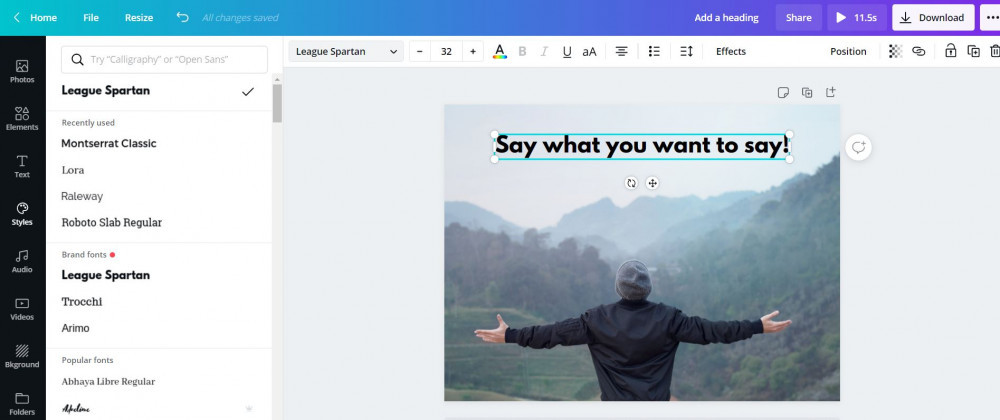 4. Drag and Drop Editor
The drag and drop editor makes it super easy to work with photos, templates, images, elements, and fonts. Pick a template and then drag and drop the various elements to customize it for you. You can change photos and text in seconds. If you're used to working with templates you can literally make a design in seconds.
5. Publish or Schedule to Social Media
Another awesome feature of Canva is the ability to share your creations with most of the popular social media platforms. They also recently added the option to schedule your posts to your social media networks including Facebook, Twitter, Pinterest and LinkedIn.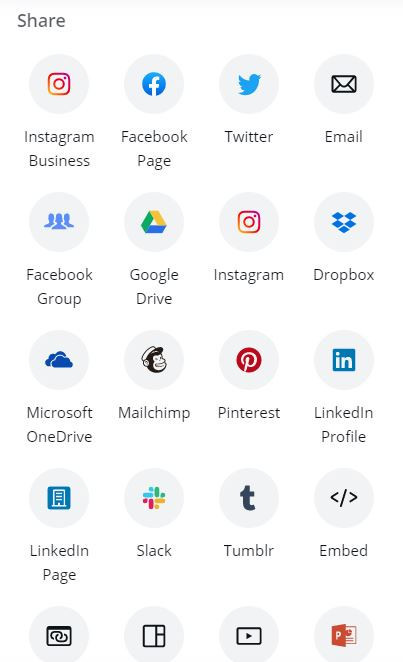 6. Brand Kit
Another feature that I'm really keen on is the Brand Kit. I have several online businesses and each of them has different branding. The Brand Kit feature in Canva allows you to create and store your brand elements including images, color pallets, fonts, and logos.
This give you easy access to your brand elements as you are designing, saving you lots of time. It also ensures that your brand is consistent across all your designs.
The Brand Kit is only available in the Pro and Enterprise subscriptions. You probably don't need the Brand Kit unless you're an agency or a business that has several brands that you need to keep track of.
Are there any Cons to Canva?
---
While Canva has a lot of great features that allow you to create professional graphic content, there are some things to consider.
The stock images and templates can be somewhat generic. And, they tend to be a little more business focused. If you're looking for some really creative, edgy stuff, you may not find it in Canva.
You have to upgrade to Canva Pro for certain graphic design elements like transparent backgrounds on .PNG images.
Canva is difficult to use on small screens.
You can't create custom graphics from scratch. However, you can assemble graphics and other elements to create something that is consistent with your brand.
How Much Does Canva Cost?
---
There are three different plans to choose from depending on your needs. The Free Plan, Pro Plan (starting at $9.95/mo. billed annually) and the Enterprise Plan at $30/month per person.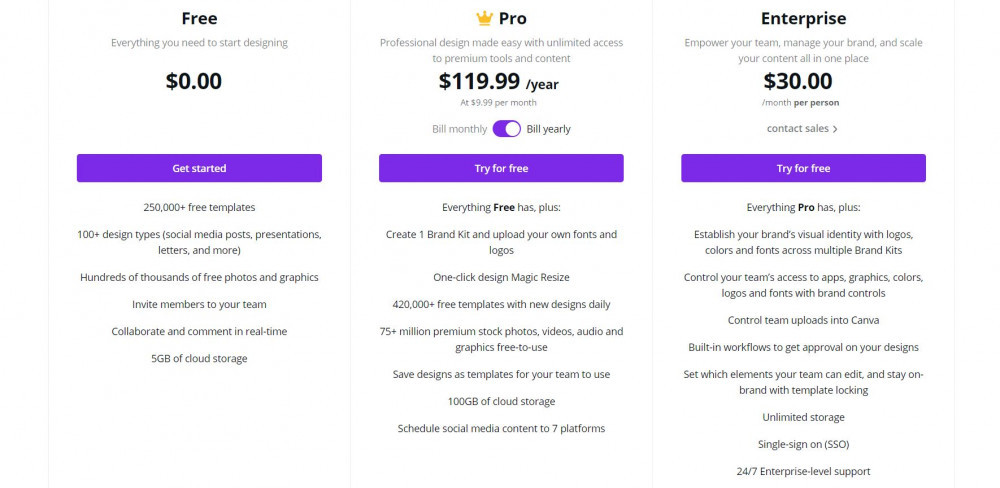 The Free plan has everything you need to get started designing. You'll have access to over 250,000 templates and hundreds of thousands of photos and graphics to choose from.
If you are creating a lot of graphics or are doing design work for clients, the Pro plan will suit your needs better. You'll have access to over 420,000 free templates and over 75 million premium stock photos. This alone is worth the price for me.
I personally use the Pro Plan. I design websites for small businesses and also have several of my own websites. The Pro Plan provides everything I need to manage all that.
The Enterprise Plan is best for agencies that have multiple users. You'll have access to multiple Brand Kits and unlimited storage.
My Overall Review and Rating
---
Hands down, Canva is well worth the $12.99 per month that I spend on the Pro version. For someone who does not have a lot of design experience or know how to use those fancy photo editors, Canva makes me look like a pro.
If you are just getting started designing and want to check out the functionality of Canva, the Free version is plenty for you. You get access to most of the design features in the other plans and, if you decide at some point that you need more features, it's easy to upgrade. And, you're not locked into any long-term commitment. Cancel anytime you want.
It's easy and intuitive for any user no matter what your experience level.  Let me know in the comment section below if you have any questions on my experience with Canva.
TheRVCEO.com gives Wealthy Affiliate an overall rating of 4.6 out of 5!