In this Wix free website builder review, I will take an in-depth look at Wix, one of the most popular website builders out there. I have been building websites on the WordPress platform for years and I wanted to see what all the hype was about Wix. So, I built a website on their platform and took a look under the hood. I'll share what I learned and hopefully help you decide if Wix is right for your website project.
What is Wix?
---
Wix is a cloud based website design platform that allows you to create a professional website or an online store, even if you have no web design or coding experience.
You don't have to buy a web hosting service or download any software because it's all part of the Wix platform. It's basically a one-stop-shop for everything you need to build a website.
By choosing one of their 500+ pre-designed templates, you can literally have a website up in minutes. Their drag-and-drop user interface allows you to easily customize your site to fit your needs.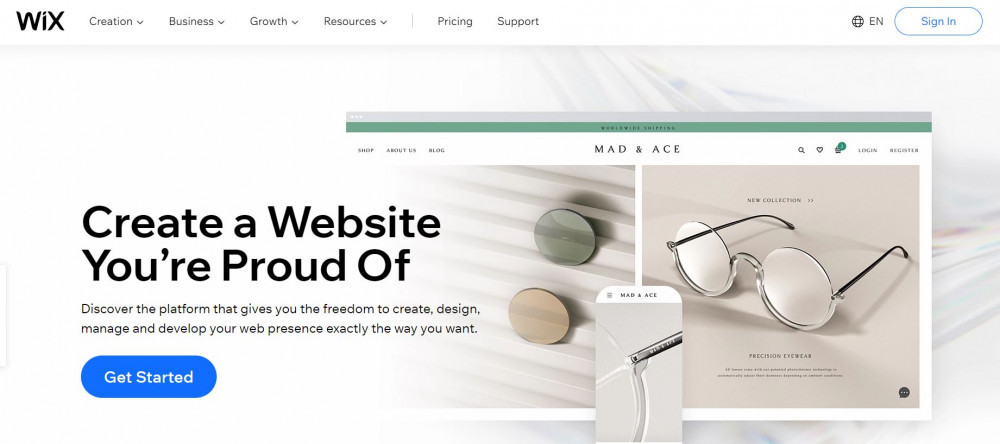 My Experience
---
As I mentioned, I kicked the tires and built a website on Wix to see how it works. I was pleasantly surprised. The initial setup of my website was fun and interactive and I was able to see some pretty awesome results in a short period.
I did get confused a couple times when I tried to make some edits. It was difficult to figure out how to get back to my home page where I could navigate the rest of the site. Once I figured that out, it was very intuitive and easy. The drag-and-drop editor is pretty seamless.
I also tried the Artificial Design Intelligence (ADI) feature and had a customized website built in literally 5 minutes. I think you'll have fun with Wix.
Overall review and rating
---
Name:  Wix
Website URL:  www.wix.com
Drag and Drop Editor: 4.6 out of 5.0
Domain Name and Hosting: 4.7 out of 5.0
Templates: 4.9 out of 5.0
Widgets: 4.5 out of 5.0
Monetization: 4.0 out of 5.0
eCommerce: 4.5 out of 5.0
SEO: 4.5 out of 5.0
Blog: 4.0 out of 5.0
Storage Space: 4.6 out of 5.0
Backups and Restore: 4.7 out of 5.0
Support: 4.3 out of 5.0
Fun Factor: 5.0 out of 5.0
Overall Rating: 4.7 out of 5.0
Does it have all the functionality I need for my website?
---
With Wix, you can get a website up in just a few hours. This means that Wix is a great option for users such as:
Businesses
Bloggers
Online Stores
Photographers / Personal Portfolios
Restaurants
A really cool feature of Wix is their Artificial Design Intelligence (ADI) functionality. Using advanced technology, Wix can create a website automatically for you with no effort on your part. Simply provide some basic information such as the type of business, contact information and answer some questions about your online presence. Wix does the rest and creates a beautiful website for you.
The ADI feature is a great option for:
People who are not tech savvy
Busy business owners
Bloggers or anyone with time constraints
If you do use the ADI feature, you can always make edits to it once it's built.
There are several plans depending on your needs, including a Free plan. The Free plan has some limitations so let's talk about pricing.
Pricing
---
Free plan
Yes, Wix offers a free plan and you can use it for as long as you like. However, there are some limitations with the free plan including:
Your website is ad-supported
It doesn't facilitate eCommerce
You can't use your own domain
The Free plan is a great option if you're creating a personal website for a wedding, a big birthday party or a community yard sale. It includes a wix domain name, free hosting, 500GM of storage and 1GB of bandwidth.
If you are building a website for your business, online store or other professional venture, the free plan is probably not for you.
Let's take a look at the other paid plans available on Wix. Note: Wix typically offers discounts if you upgrade from a Free account vs. paying for a Premium plan upfront.
Basic Website Plans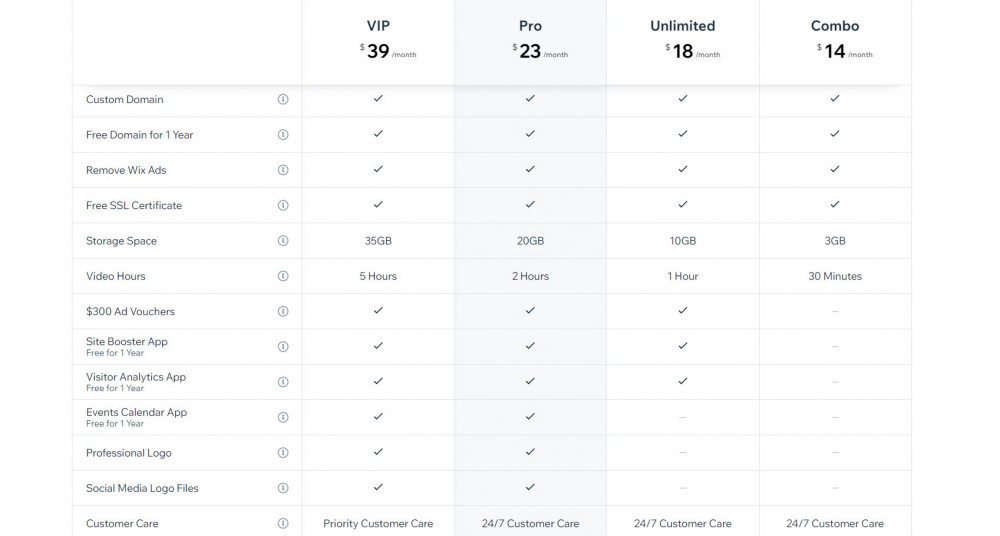 Combo plan ($14/month)
The Combo plan is billed as 'for personal use'. Some of the notable features of the Combo plan are:
It removes the Wix brand advertising from your website (which can be pretty intrusive)
You can connect a domain name to your website (if you purchase your domain name through Wix you receive the first year free)
You get 3GB of storage for your website
You can upload 30 minutes of video content to your website
Unlimited Plan ($18/month)
The Unlimited plan is basically the same as the Combo plan with a couple additional features:
You'll receive $300 worth of Ad Vouchers which can be used to pay for Google AdSense or Bing Ads
You'll get access to a Site Booster App that will submit your website to search engines as well as an Analytics App to help you analyze your traffic
You get 10GB of storage for your website
You can upload 1 hour of video content to your site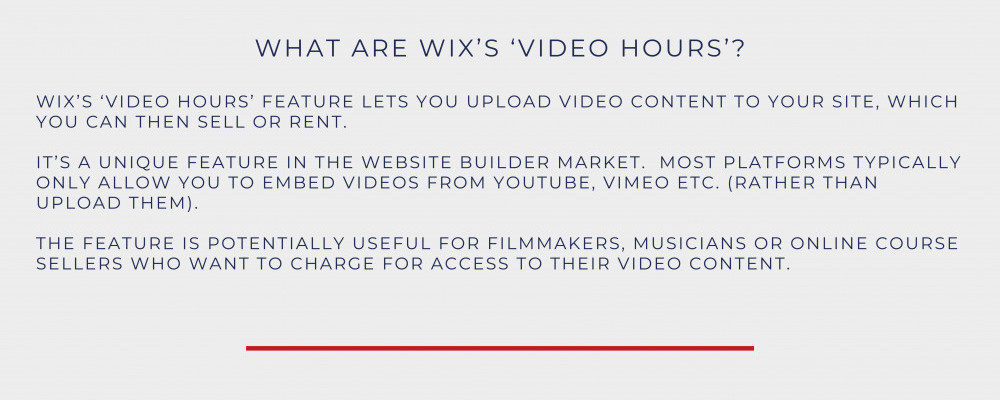 Pro plan ($23/month)
The Pro plan provides all the features of the Unlimited Plan plus:
20 GB of storage
The ability to upload 2 hours of video content to your site
A professional logo maker tool
The ability to customize social media icons
An events calendar app where you can display event listings on your site
VIP plan ($39/month)
The VIP plan provides all the features of the Pro plan plus:
35 GB of storage
The ability to upload 5 hours of video content to your site
Priority support
Business and eCommerce Plans
Wix also offers 3 Business and eCommerce plans if you are looking to sell products online. The cheapest and best plan to get started selling products online is the Business Basic Plan ($23/month). Higher plans (VIP and Business Unlimited are available too if you need premium features like automatic sales tax calculation and drop shipping.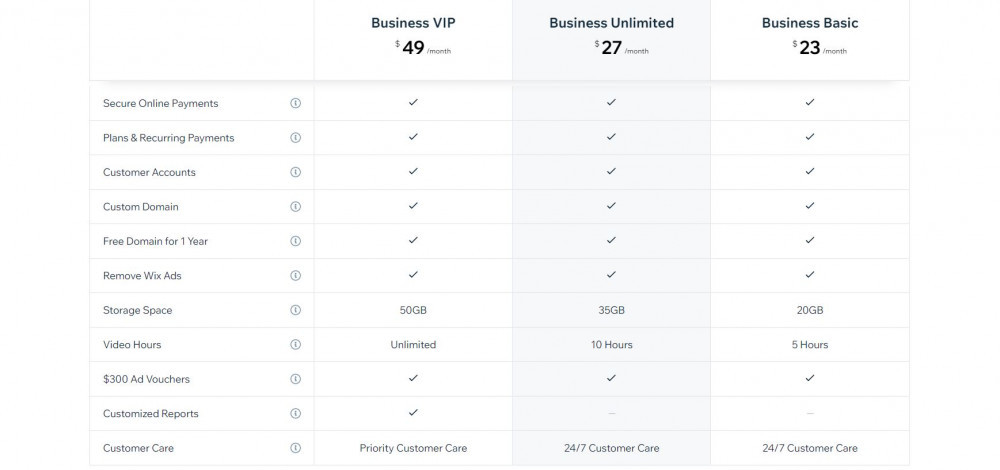 Features of Wix
---
Ease of Use
Wix has really stepped up their game when it comes to ease of use. It's pretty intuitive and user-friendly, even for people who do not have any web design experience. The drag-and-drop editor makes it super easy to change any element of your website from text to images and everything in between. The Artificial Design Intelligence (ADI) will guide complete novices through the process of setting up a website. It's a little less flexible but you can always change to the regular editor at any time.
Templates 
The choice and flexibility of website templates is truly amazing. You have access to over 800 different templates that can be customized and are pixel-perfect. There is also a mobile-friendly version that can be adapted individually. You can upload videos in the background and even upload your own fonts.
Advertisement Free 
A downside to the Free plan is that Wix displays some pretty noticeable ads on your website. If you upgrade to any of the paid plans, those go away.
Your own Domain Name 
A free domain name for one year is included in any of the paid Premium plans. Renewal prices start at $14.95 / year for domains. SSL encryption (https) is always included.
Hosting 
You do not have a choice as to which hosting service you use. You are required to use the hosting service that comes with all Wix plans. They boast a 99.8 % uptime which is acceptable and you don't have to purchase a separate hosting package.
Widgets 
The Wix App Market offers a variety of tools to add functionality to your website. Wix Music, for example, allows you to sell and promote music on your site. Wix Bookings will allow customers to sign up and pay for classes or consultations from your website.
Monetization 
You can add monetization features to your website like Google AdSense and affiliate links using their app store.
eCommerce 
An online store is included in the Business and eCommerce plans which start at $23/month. That is a good price and there are no sales fees. You can sell both digital and physical goods with the ability to track inventory.
SEO 
Wix used to have a bad reputation when it came to search engine optimization (SEO) but, again, they have stepped up their game. They now let you edit page titles, meta descriptions and tags individually. They have an SEO Wiz for beginners that will walk you through the process of making your site SEO optimized.
Blog 
Their blog is a pretty good addition to the Wix platform and is SEO friendly. One of the few downsides is the commenting feature is strange. It requires visitors to subscribe to your website in order to leave a comment. It could have a potential impact on people engaging with your content.
Storage Space 
Storage starts at 500MB and goes up to 35GB. There is also a monthly bandwidth limit in most plans. The bandwidth in the Combo plan should provide enough for roughly 3,000 – 5,000 visitors per month. The higher plans offer unlimited bandwidth.
Backups and Restore 
Wix has a Site History feature which is basically version control. You can restore your website to any previous version if you need to.
Support 
Documentation and help features are pretty detailed in Wix. If you get stuck or need help to figure out how to do something, you can usually find the answer quickly. They also offer a support forum and phone support. If you're having trouble finding an answer you can submit a question to the forum and can get a response fairly quickly.
Wow Factor 
You will be pleasantly surprised at how fun it is to get started and will see some pretty amazing results quickly. I had several 'wow' moments as I was creating my first website.
Pros
---
Templates – a wide variety of beautifully designed templates is one of their best features. They have customizable templates for just about every industry.
ADI – The Artificial Design Intelligence feature will have newbies up and running with a beautiful website in no time.
Animations – Wix is one of the few website builders that allows you to animate text and other elements of the website. However, it's recommended to use some restraint.
App Market – There are many widgets and apps that you can add to your site that will provide additional functionality like online booking widgets and live chat features. Keep in mind that many of these are third party so not really controlled by Wix.
Automatic Site Backup – Wix will automatically backup your website so you don't have to worry about losing any important information or updates to your site.
Cons
---
Absolute positioning vs. fully responsive – While Wix websites are mobile-friendly, they use absolute positioning vs. being fully responsive. Responsive web design, also called mobile-friendly design or mobile first design, is critical for your website! You can make your Wix website fully responsive but it will take some work on your part.
You can't change templates – Once you choose your template and start customizing it, you can't change templates (like you can in WordPress for example).
Overall Review and Rating
---
I highly recommend Wix for small businesses or smaller website projects. The navigation structure doesn't really allow for more complex websites as there is only one sub-level. So, for websites that are larger than 30 pages or so, it might not be the best option.
The selection of pre-designed templates for just about any industry is truly remarkable. Even if you don't have any web design or coding experience, you can get a beautiful, professional website up very quickly. The only limitation is that you can't change templates once you've created your site. The good news is that the design flexibility within each template is second-to-none.
The speed at which you can have your website built and customized is pretty awesome. If Wix fits the need for your business or website project, you will be very happy with Wix.
The RV CEO gives Wix an overall rating of 4.6 out of 5.0!
For information on how to build a website on the WordPress platform for affiliate marketing or blogging, you can read my detailed review of Wealthy Affiliate.