Do you need to create a logo for your business, website, blog, or personal brand? In this article, I will show you how to use a free logo creator online from a company called Canva. In Canva, you can create stunning graphic designs using their drag and drop feature. Even if you don't have any experience with photo editors or other graphic design tools, you'll be able to make a beautiful logo using Canva.
I use Canva for all my graphic design work including logos, custom images, newsletters, and a whole lot more. It's easy and super intuitive. I'll briefly discuss some of the other features of Canva but first, let's take a look at the logo creator.
Create a free account in Canva
---
The first step is to sign up for a free account in Canva. Click the sign up button and enter in your email address and select a password to set up your account. Or, you can sign up using Facebook or Google.
Next, you'll be asked to create your team and add team members but this is optional. You'll also be asked if you want to try Canva Pro for free for 30 days. You can skip this at this point. The free version of Canva is all you need to create a beautiful logo.
Create your logo
---
Once you have your account set up, you will see a screen that says "start your first design". As you can see, there are many things you can design and create in Canva. But, for this example, we're going to choose "logo".
Now, you're ready to start designing your logo. If you are a visual learner, click on the image below for a quick walk-through of how to create and design your logo. I will also describe in detail below.
Quick video walk through
Start with a template
---
You will notice a 500 x 500px square in the canvas area. This is where you'll be designing your logo.
The first thing you'll want to do is choose one of the pre-designed logo templates on the left side of the page. You can type in a keyword or phrase to see if there is a template that matches. Otherwise, you can scroll through the templates and choose one that catches your eye.
The great thing about Canva is that you can play around with a lot of different templates and designs. If you do't like the first one you choose, try another.
Remember all templates are customizable. You can change any element on them such as image, color, font, etc.
Once you choose your template, click on it and drag it over to your canvas area. Now, you are ready to start customizing it.
Customize the elements of your logo
---
To Customize an element, click on it and a toolbar will appear above the design.
Color
Let's take a look at how to change the background color. If you want to change the color of the logo background, click on the background and you'll see a toolbar above that will give you the option to change the color. When you click on the color square, a sidebar will open on the left side of the screen where you can change the background color
You can type in a color code or look at some of the options under 'default colors'. Or, click on the '+' symbol under 'document colors' and customize your own color.
You can change the color of any element in the template including the image, the image background and font.
Photos
If you don't like the image on the template, you can customize it. Simply click on the 'photos" tab on the left side of the screen and choose from thousands of free stock images. Then, just drag and drop it into your design.
Elements
There is also a large selection of different elements you can incorporate into your design including symbols, characters and other strange design elements that I can't even describe. Let your imagination go!
Text
You can also play around with the text and fonts in your design. You can double click on the text in the template to add your custom text. Or, you can add your own headings or other text by dragging a text element into your design. You can also choose from a large selection of font combinations like the one I use in the image below.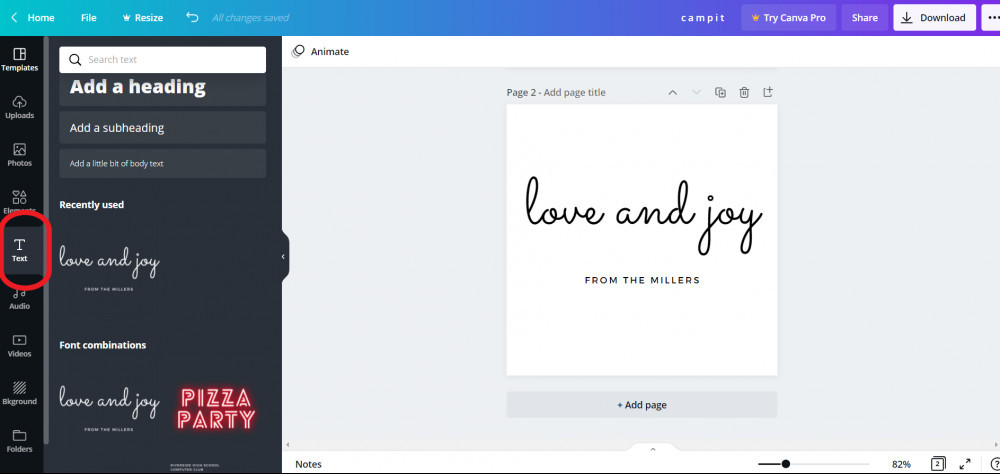 Audio and Video
You probably won't be using audio or video elements in your logo design. But, this is a really cool feature in Canva that you can incorporate into other stunning graphics that you can design. You can create presentations in Canva that have music and video built in. Really cool feature.
Download and use your new logo
---
Once you have the final design of your logo, you are ready to download it and use it on your website, marketing collateral, letterhead, or anywhere else to create a professional look.
Simply click on the 'Download' button in the top right of the page, select the logo design you want to download and click 'download' again. Voila! You can also use Canva to resize your logo if you need to.
Other things you can create in Canva
---
As I mentioned earlier, you can create a whole lot more than just logos in Canva with the same easy drag and drop features used in creating a logo.
Some of the things you can create in Canva include:
Social Media Graphics (Facebook Post, Instagram Story, YouTube Channel Art, LinkedIn Banner, etc.)
Personal Graphics (Invitations, Cards, Resume, Postcards, etc.)
Business Graphics (Presentations, Website, Business Cards, Invoices, etc.)
Marketing Collateral (Posters, Fliers, Infographics, Brochures, Newsletters, etc.)
Educational Materials (Lesson Plans, Classroom Decor, Certificates, Class Schedule, etc.)
And a whole lot more
Your logo, your brand
---
Now, go create your logo for free and get the professional look that will get you noticed.  Create your brand that will make you stand out above the rest.
I absolutely love Canva. I used to get so frustrated every time I had to edit a photo or create some sort of graphic. I had no idea what I was doing and usually had to ask someone to help me. With Canva, I'm in control of all my graphics and can whip something up in literally a few seconds.
Leave a message in the comment section below if you have any questions or need any additional help.