In this article I am going to show you how to learn WordPress online. It may not seem like the most obvious choice but it's definitely the most inclusive training I've found. It's also the best training available if you want to learn more than just how to use the WordPress platform.
Oh, and you can start for free.
I first became interested in WordPress when I had a website built for my in-home senior care agency. It was built on the WordPress platform. I wanted to learn how to post blogs and optimize my website using search engine optimization (SEO) so that my site would show up first in Google, ahead of my competitors.
I didn't want to have to pay someone to do that.
Since going through this training, I have built many websites and even started my own freelance web design business where I build websites for local businesses and non-profits. It's a cool side gig.
What is WordPress?
---
WordPress is a free, open-source website building platform. It is also one of the best content management systems which makes it an excellent website platform for a variety of different websites. It's flexibility and scalability makes it a great website builder for both small and large websites.
According to usage statistics of content management systems over 60 million websites are powered by WordPress which is a whopping 41.2% of all websites. The next largest website platform is Shopify at only 3.5% of all websites. So, WordPress continues to dominate the market as the #1 content management system.
Who should use WordPress?
---
With WordPress, you have complete control over both the back end (where you can manage all your content) and the front end (which is the visible part of the website that your visitors and customers see). This makes it an ideal platform for most websites including:
Blogs
eCommerce websites
Business websites
Non-profit websites
Membership websites
Portfolio websites
Event websites
eLearning websites
Wedding websites
Best WordPress training online (and it's free to get started)
---
Ok, so what is the best online training program out there for learning WordPress? I know this doesn't sound like the most logical choice for WordPress training but hear me out.
Back in 2017 I signed up for a free membership on a platform called Wealthy Affiliate (I'll explain what Wealthy Affiliate is in a minute) and today I am a freelance website designer, SEO consultant, and have built more websites that I can count.
Wealthy Affiliate taught me more than just how to use the WordPress platform. They taught me:
How to build and design websites
How to make money from my websites
How to drive traffic and get my websites on page one of Google using search engine optimization (SEO)
And, everything WordPress!
What is Wealthy Affiliate
---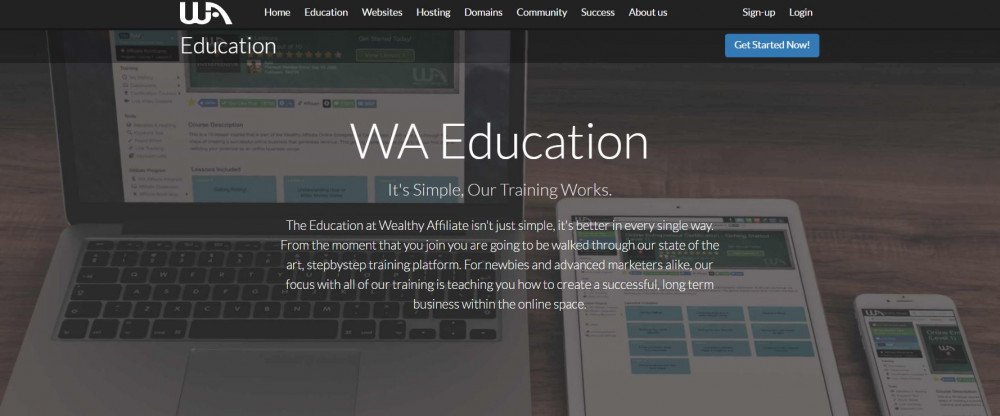 So, what is Wealthy Affiliate?
Wealthy Affiliate was designed for affiliate marketers and anyone interested in learning about affiliate marketing. Affiliate marketing is where you find a product (or products) that you like and promote them. If someone buys the product you're promoting you earn a commission on the purchase price.
This is tracked using an affiliate link that is exclusive to you. Then, if someone clicks on your affiliate link and purchases the product, then you earn a commission on that purchase.
The idea is that you build a website around a passion or around something you're an expert in (or want to become an expert in) and publish helpful articles around that 'niche'.
The more visitors you get to your site, the more money you can make.
Why use Wealthy Affiliate to learn WordPress?
---
Wealthy Affiliate offers so much more than learning how to be an affiliate marketer. The training and support I receive from the community there has been invaluable to me and helped me start my own web design business.
At Wealthy Affiliate, I not only learned WordPress but I also learned HOW to use WordPress to build and design beautiful websites. I learned the secret of search engine optimization (SEO) ane how to make sure my websites and my content were optimized for search engines.
You can start their Online Entrepreneur Certification Course for free and learn how to build a money-making website on WordPress. They also have paid plans if you want to take your training to the next level.
What you will learn
---
Below are the training lessons in the Online Entrepreneur Certification (Getting Started) Program. It is a 10 Lesson Course and each lesson has several modules.
Each lesson has videos and written instructions so, no matter what your learning style is, you'll be sure to grasp the content easily. Each lesson has several tasks that you'll need to accomplish before going to the next module. So, be prepared to take action on each module.
My advice to you is to follow the learning, complete the tasks and trust the process.
Web hosting, security and support all included
---
In addition to all the training and support you'll receive at Wealthy Affiliate, you will also receive website hosting, security and support that's all included. You can build your website and host it all in one place. In fact, all the client websites I've built are hosted on this platform.
How to get started
---
As you can tell, I'm a huge fan of the training and support I receive at Wealthy Affiliate. It really took my career to a different level and allowed me to leave my corporate job and live the freedom lifestyle I love.
I hope you'll check it out and see for yourself. Click the link below to sign up for your free membership and start the training now. Good luck.
Let me know if you have any questions by leaving a comment below.